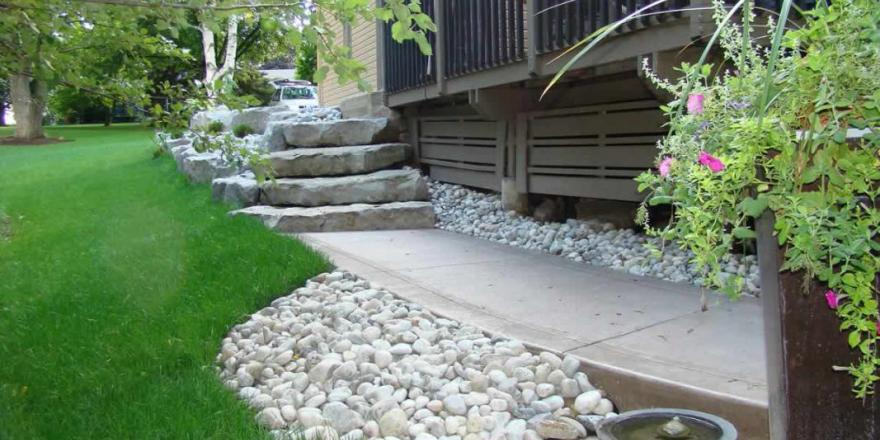 While many home renovations can be tackled by the homeowner, there are certain projects that are best left to the professionals. Landscaping is one of these and hiring a professional landscaper will inevitably save you money.
Avoid Costly Mistakes
Landscapers have the experience and expertise to get it done right, the first time. A new concrete driveway can cost between $11- $16 per square foot. Without professional installation, this can be money down the drain.
Tearing up your new driveway in five years is the last thing you'll want to do, but if it's not installed properly with a solid foundation, this could be your scenario. Hiring a professional landscape contractor to come in after the fact to correct your mistakes will be costly and can, in the end, double your original budget.
While your dream may be to the have a glorious perennial garden, flowers and shrubs don't always come cheap and mishandling them will quickly eat up your landscaping budget. Professional landscapers have the expertise to ensure plants are planted properly, in the right type of soil, with adequate light so they will not only survive, but thrive. A professional job comes with warranties you just don't get with a do-it-yourself job.
A great landscaping project will involve many elements and hiring the professionals will ensure that each of these elements are executed with your vision in mind. In the end, the skills and know how that a professional landscaper brings to the job will prevent costly mistakes and ultimately save you money.
Higher Property Value and Greater Saleability
Professional landscaping, stamped concrete patios and sidewalks, decorative concrete driveways, and a new lawn with fresh sod will increase property value and create greater saleability when it comes time to move. Curb appeal creates a great first impression and will lead to higher offers, and a professionally landscaped property can make all the difference. Landscaping done right can add up to 20% to the overall value of your house and cuts it's time on the market 10% to 15%.
Some landscaping projects will net you a better return than others. While pools, ponds and fire pits, are pleasing to the eye and very functional, they don't necessarily raise property values like decks, patios and walkways do. Professional landscaping will have your property selling faster and, a well-appointed landscaped property will ultimately increase your property value, often netting you a profit for your project. 
Time is Money
Professional landscapers will get in and out in a timeline that suits you. A do-it-yourself landscaping project can linger on for months and sometimes, even years. Getting motivated to start a project is a lot easier than finishing that project.
Getting a quote from a professional landscaper guarantees your timeline along with the cost of the project. Professionals have the heavy equipment it takes to move faster than a homeowner with hand tools can. Your time is worth money, and in starting your own landscaping project it can be difficult to determine a timeline for completion.
The professionals have the experience to. They will not only quote you a price but a timeline. They are able to work faster and with more expertise, getting the job done right and on time.
Buying or Renting Tools can be Expensive
When you hire a professional landscaper, they come with all the tools needed for the job and better prices on all the materials. Having to rent or purchase tools can put your landscaping budget under water in a hurry. Many of these tools will be project specific so if you choose to buy you may be left buying tools you'll never use again.
For instance, renting a compactor will cost you, on average, $80 a day. Purchasing a compactor will cut into your budget by at least $1000. When your driveway project is complete, that compactor will likely just take up space in the garage and may never be used again. How many times have you rented a tool for half a day, only to need if for the whole weekend? Sometimes renting a tool ends up costing more than purchasing that same tool. Many landscaping projects will require several large and expensive pieces of equipment to finish the job. Whether renting or buying, quality tools that a professional landscaper brings to the job can financially be out of reach.
Lower Maintenance Costs in the Long Term
A professional landscaper will help you create a design that will cost you less money going forward. Having a concise and detailed plan for your project along with the expertise that a professional landscaper brings, will cut your future cost. Low maintenance landscaping will ensure that you won't have to spend a lot of time and money after your project is complete, and professional landscapers have the knowhow to make this happen. Maintaining your project, whether it be a stamped concrete driveway, or a rock garden, will be easier on the pocket book with the advice of your professional landscaper. When you choose to hire a professional landscaper, you aren't the only one invested in your project because they will also want to see the results last and look beautiful for years to come.
Sometimes hiring the professionals just makes financial sense. When you hire a professional landscaper, you are purchasing their time, you are also leveraging their expertise, buying power and years of experience. Unless you're a professional landscaper yourself, these three things will pay for themselves now and in the future.