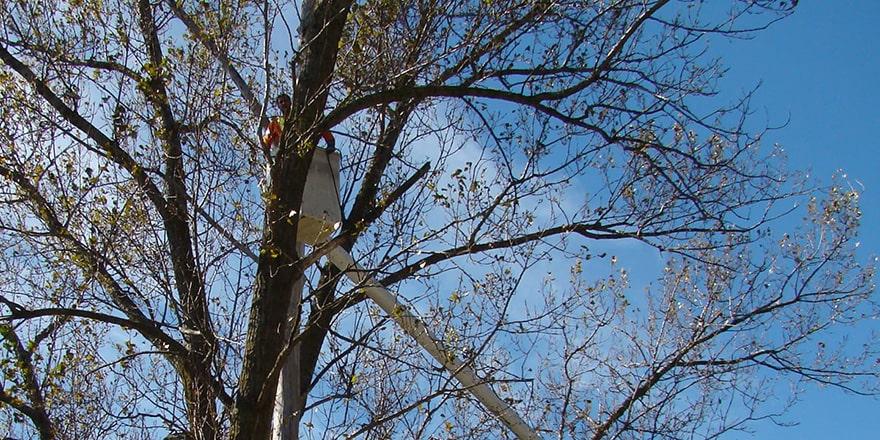 Lester Contracting has done tree removal in Brantford for more than 20 years. Whether you need some trees trimmed, power lines cleared, a tree cut down or an entire lot cleared, Lester Contracting is the Brantford tree removal sercvice you're looking for. We have the experience and expertice to take your trees down quickly, efficiently, and safely with no damage to existing structures.
Stump Grinding and Stump Removal
Once a tree is cut down it leaves a flat stump in the ground. This stump can be unsightly and often the homeowner will want he stump ground down or removed so that sod can be laid, or a garden or patio installed. Use the form on this page to contact Lester Contracting to have stumps ground down or removed from your property.
Power Line Clearing
Do you have privately-owned power lines on your property? It is your responsibility as the home owner to keep trees and tree branches clear of privately-owned power lines. Uprooted trees, leaning or fallen trees, and tree branches can interfere with, or damage power lines causing a power outage, or unsafe situation. DO NOT attempt to clear power lines yourself. Contact the experts at Lester Contracting to have your power lines cleared of damaged or fallen trees safely.
Lot Clearing
Do you have unwanted trees on your property? Are you building a new house, apartment building, or making space for landscaping or a pool? You'll need those trees removed before you can start building so call Brian Lester from Lester Contracting at 519 756-6200 to have your lot cleared quickly, leaving no mess behind, so you can move on with the next step in your project.
Services include:
Aerial Bucket Service
Crane Service
Tree Trimming
Tree Removal
Stump Removal
Lot Clearing
Hydro Line Clearing