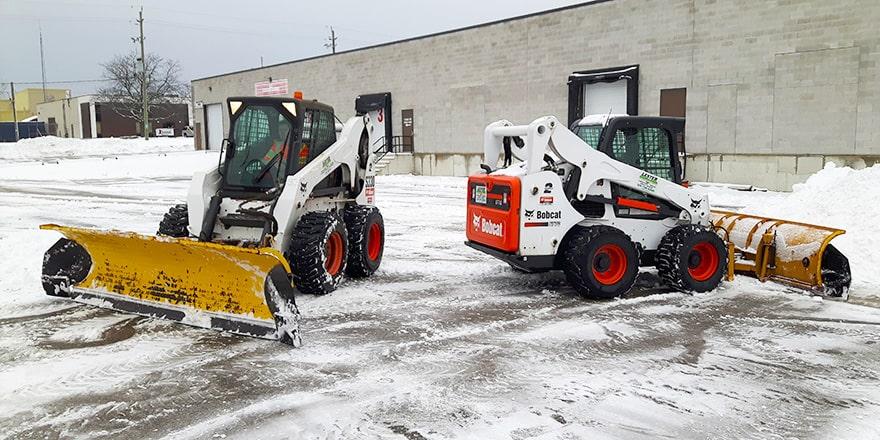 While you may have been caught off guard by the severity of last year's winter, you will have no excuse this year. Brantford and surrounding areas are being forewarned that last year's white and wild weather is set to return for the winter of 2015. Surely we've learned our lesson and this year will be ready for that white winter. According to the farmer's almanac, the winter of 2015 will be much the same as last winter with most of the snow falling in late December into mid- March. Last winter, many of us tackled the drifts ourselves and soon found out that you can only pile snow so high. There were no sidewalks last winter for one reason.  They were buried for many months under a blanket of white stuff. If you own commercial property, professional snow removal is the way to go.
Doing it Yourself can be Dangerous
A great amount of physical effort is needed to shovel all that snow. Many, otherwise healthy middle aged Canadians have suffered heart attacks doing just that. All that heavy lifting is a strain on the back and heart. Your alternative is a snow plow. But who wants to battle the elements in the wee hours of the morning. It is imperative that during a substantial snow fall, plowing occurs with the storm, instead of letting it accumulate. This will leave you out in the cold, more than once during a single snowfall. While it's essential that your parking lots, driveways and sidewalks are cleared in time to do business each morning, some things are best left to the professionals and snow removal is one of them. When you enlist professional snow removal services, you are giving yourself peace of mind in knowing that this season's snow won't negatively affect your bottom line.
Initially, it may seem like a good idea to fix a plow to your pickup and cleanup those parking lots, walkways and sidewalks, but damaging asphalt, grass and cement is a real possibility. Commercial snow removal companies can save you money in the end.
Are you Insured for the Job?
Snowplowing professionals know that clearing your snow in a timely manner is only part of the job. The potential for slips and falls is your number one issue.  Most individuals wouldn't know the best place to pile all that snow. You won't be considered a very good neighbor come spring, if your run off takes aim into the nearest residential neighbourhood. A mid-winter thaw could also have run off refreezing on walkways and sidewalks. A good commercial snow removal company will carry the proper insurance and the amount of insurance needed to protect your property, business and you. In fact, contracting snow removal services can reduce your own insurance premiums if you are a business owner or commercial property owner.
Prepare, plan and go forth in the battle against the white stuff with reliable, safe and timely snow removal for your properties and business'.
Frozen pipes, bad driving conditions and snow days will surely be some of the symptoms of this repeating harsh winter. Struggling with huge amounts of snow and its removal, doesn't have to be one of them.